During winter many people get a dry scalp. It can be itchy and flaky and pretty annoying. You may think it's dandruff and try out a dandruff shampoo, but you still see flakes. Here are 3 tips for getting rid of dry scalp

Step One:
Do a scalp exfoliation to get rid of build up and the dry flakes that haven't shed yet. A deep cleansing salt and olive oil scrub is great for stimulating hair growth and removing any dandruff or dry flakes without drying out the scalp. The fatty acids in the olive oil coat the hair and provide moisture and protection against damage and the lemon juice dissolves product residue and adds a fresh lemony scent.

You will need
2 tablespoons sea salt
1-2 tablespoons lemon juice
1-2 tablespoons olive oil
Mix salt, lemon juice and oil together. Wet your hair thoroughly and massage the scrub into scalp for 5 minutes. Rinse well and shampoo.

Step Two:
Use a Sulfate free shampoo. Sulfates are a degreaser and it dries out our skin and then we get those annoying flakes.

Step Three:
Many root boosting products and dry shampoos contain alcohol. Since we tend to spray these right at our scalp they can really dry it out. Look for alcohol free products. Your scalp and hair will thank you!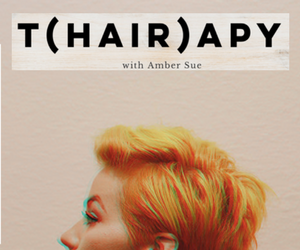 about me.
Hi I'm Amber Sue. I've been sculpting hair since I was 14 and I have been licensed for 11 years. Hair styling is my passion, but even more than that I love making my clientele feel beautiful and confident. I enjoy what I do and I love being able to experiment with my own hair and in doing so that has inspired some of my clients to the endless possibilities of what can be done with your hair.
My mission is to give clients a relaxing environment to be pampered and undisturbed. The integrity of your hair is number 1 and my main goal is to help you have healthy hair that is easy to manage. I want my clients to be confident in styling their hair so that your routine can be a little bit breezier!
CONTACT.