North County San Diego has many playgrounds and trails, so whether you are looking to visit them all, or just want to find a couple new favorites, we have information about all of them. Just click on the playground names below to learn more about each one, and check back often as more are added.
Hosp Grove Park- Nature Park
My family refers to this park as "nature park" since it is in a beautiful setting near the lagoon and towering Eucalyptus trees. Host has kid friendly walking trails through the hills with many people walking their sweet pets. The kids will love the large tree trunks lying that they can show off their balancing skills and circus acts. Look mom, no hands!
Jefferson Street and Marron Road, Carlsbad, Ca 92008
Cannon Park- Smokestack Park
We have a sweet spot for Cannon Park given its proximity to the ocean. It is located under the famed Carlsbad 400 foot smokestack. Cannon Park has nice play structures, a full size basketball court and a large grassy area. The kids enjoy watching the curious squirrels and the many lizard friends sunbathing along the sidewalk. There's a nice large grassy field with a few great climbing trees.
Carlsbad Blvd. & Cannon Rd. Carlsbad, Ca 92008
Holiday Park-The City Park
Holiday Park is probably considered the most "city-like" park since Highway 5 lines one side of the street and from the level of activity, diversity and character. The playground is large with 2 play structures, swings and plenty of sand. This park can get crowded but the kids seem to enjoy the excitement. It also is in the same area as our beloved City of Carlsbad Preschool, Kruger House. There is also an enormous tree which is worth a gander. Carlsbad City Learning Library is directly across the street and has Spanish, English and bilingual literature for all ages.
Chestnut Street and Pio Pico, Carlsbad, Ca 92008
Hidden Canyon Park-Scooter Park
Hidden Canyon Park is an Old Carlsbad favorite. This park offers 2 excellent large play structures for all ages, a meandering sidewalk path for trikes, scooters, bicycles and a nice view to boot! Your kiddos can scoot around without a care in the world (no busy streets or traffic). Parents can watch their kiddos from practically any point in the park. It is a safe area that the kids are contained so parents feel safe letting kids roam freely. This park is hidden in the residential neighbor below Ann D. L'Heureux Dog Park. If you are feeling up to a small hike, park your car at the top of the hill in the dog park lot and walk down. There is a nice fenced in dirt trail. Hidden Canyon is also is a favorite birthday party destination. Parents can reserve a space and even have a jumpy house delivered. Our family has gone to a number of fun parties and playdates here. There is also enough grassy areas to lay a blanket down to picnic. Hidden Canyon Park has clean bathrooms and a nice view of the canyon- SCORE!
2685 Vancouver St, Carlsbad, Ca 92010
Alga Norte Community Park- The Whole kit and Kaboodle
Alga Norte has elaborate play structures, slides, rope ladders, sand toys, a very cool skate park AND gorgeous swimming pools. Everything any kid and Carlsbad parents would ever want in one place. There is ample parking so toting kid accessories will not be any more tedious. Alga Norte is very pretty with a sprawling grass field, many picnic tables and nice clean public bathrooms. This park is located in the Bressi Ranch area of Carlsbad. If your does not live close, it's definitely worth the trek with your little ones to check it out.
Alga Norte Aquatic Center is also there which is a local must play destination. Serious competitive swimmers use this facility as well as kids of all ages. Many local families have their children enrolled inseam classes here. There are special community events here sure to entertain such as the "Aloha Plunge." The Aloha Plunge is a special evening with food, swimming and a movie. Alga Norte Park is the cream of crop the Carlsbad City Parks since it has clean bathrooms, multiple facilities, green open space, a skate park and is safe & fun for all ages.
6565 Alicante Road, Carlsbad, Ca 92009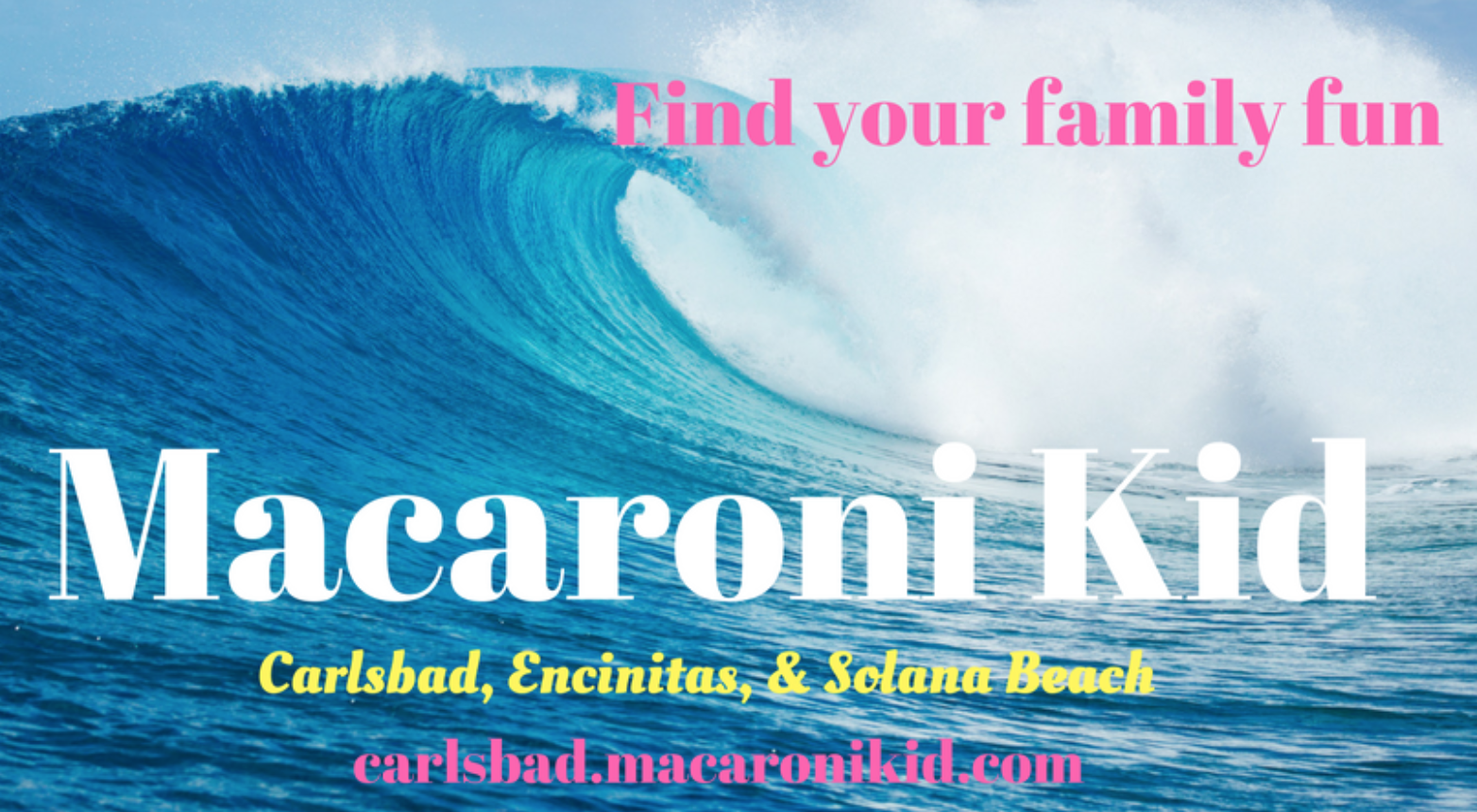 Subscribe to our free weekly newsletter! Each week, you will receive fresh new ideas of local family-friendly events. Get social with us on Facebook, Twitter, and Instagram. We love keeping you you updated with local happenings in our community. Macaroni Kid Carlsbad is a free weekly e-newsletter, online calendar, and website proudly serving families in Carlsbad, Encinitas & Solana Beach