Join Walk + Bike Carlsbad for an early December community bike ride in and around Carlsbad Village to a tree lighting event presented by Rotary Club of Carlsbad. There are two rides with start times at 1:45pm and 3pm. Join in for one or both of the rides! Have fun decorating and light up your bike! Also, free W+B Carlsbad tail and head lights for participants while supplies last.


Quick ride summary here:
Ride #1 little less than 1.5 miles and is very family friendly. Parents are encouraged to bring their children along for the ride! Th ride connects with antique fire engine and Santa 'parade' for short ride to the Village Faire Shopping Center.
Ride #2 Just less than 6 miles and is also family friendly (older children) This ride can modify as needed based on riders and timing to get to tree lighting on time at the Village Faire Shopping Center.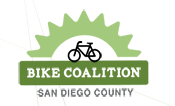 The San Diego County Bicycle Coalition advocates for, and protects the rights of all people who ride bicycles. We promote bicycling as a mainstream, safe and enjoyable form of transportation and recreation.