Ever wonder what's under the crashing waves? Remember the days when kids roamed and explored? Right here in North County you can explore, splash and discover unique coastal life.
The Tidepools are nicknamed The Terramar Tide Pools, located south of Carlsbad State Beach offer an abundance of sea creatures, shells and plant life. The Tidepools are the perfect backdrop for families and kids of all ages.
Tip: It is SUPER important to check the tide. Low Tide is the only time that the pools are present. Otherwise the Tide is high and crash along the rocks. Click here to check the tide.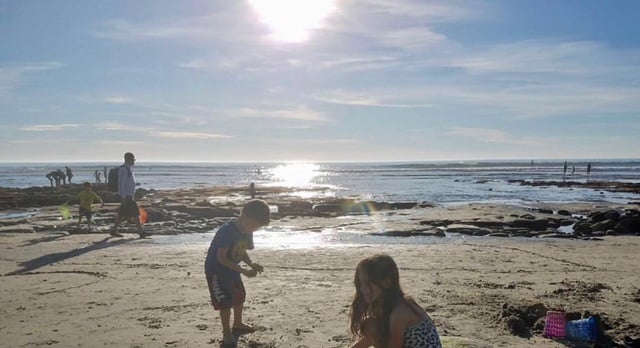 The Locals call them Sea Hare's or Sea Slugs. Interestingly, they feed on Algae and Seaweed, can grow up to 16 inches and 30 pounds. The Tide Pools are filled with this soft and sweet creatures. Children were playing, splashing and observing their interesting nature.
If you're lucky enough, the sun will be setting & you will see not only an abundance of creatures but the sun setting on the western horizon is not be missed!
5 Tips for Visiting Tidepools
Check the Tide Forecast before visiting, Lowtide is Best!
Wear clothes that can get wet
Water shoes or boots will help little ones as the rocks can be slippery
Bring a camera (waterproof) if necessary
Bring a Bucket & Shove
Have fun and enjoy this Best Kept Secret in Carlsbad!
To stay IN THE KNOW, subscribe to our free weekly newsletter! Each week, you will receive fresh new ideas of local family-friendly events. Get social with us on Facebook, Twitter, and Instagram.We love keeping you you updated with local happenings in our community.
Macaroni Kid Carlsbad is a free weekly e-newsletter, online calendar, and website proudly serving families in Carlsbad, Encinitas & Solana Beach