You had me at Fried Mashed Potatoes.
There's a new brunch spot in town and its delicious. Mouth watering brunch-tails, steak and eggs and chocolate covered apples! The ambiance is chill, comfortable and the perfect backdrop for an early breakfast, late lunch with the girls, family or date.
As soon as we sat down I knew that I was in for a delicious meal. I could smell the aromas of bacon and freshly made food. The tables around us were laughing and for lack of a better word, "chowing" The atmosphere was lively and robust. The kids were in school and it was a treat for the hubs and I to have a date in the middle of the day. We started out with beverages, like real adult beverages. The hubs had the Aflie's Bloody and I had the Hibiscus Flower Champagne. His Bloody Mary might as well been a meal. It had Gin and green bloody mary mix, garnished with shrimp, bacon, a stuffed olive - finished with a smoked slat rim. Can't you taste all the flavors?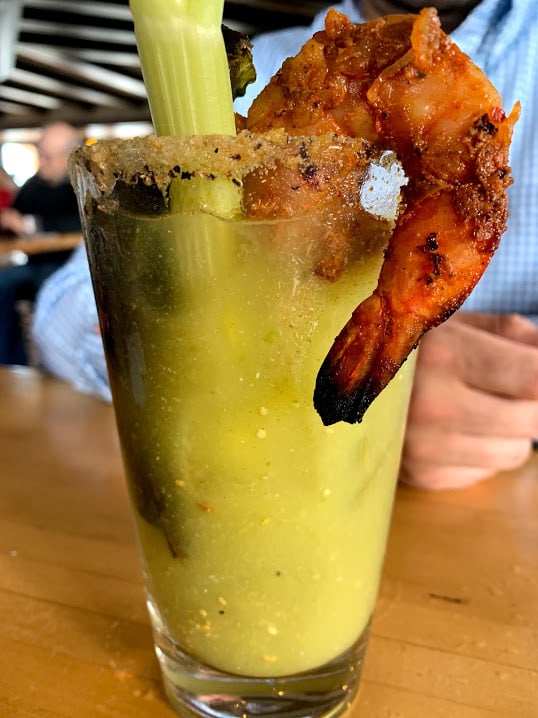 The menu itself is extensive. They have choices for all types of palates. We started our meal off with the house specialty, the coconut pistachio kanafee which is a shredded phyllo dough stuffed with a ricotta & jack cheese filling, drizzled with an orange blossom syrup. The toasted brioche is topped with pistachios. Each bite was fluffy and filled the taste buds with an aromatic sensation of orange blossom. YUM!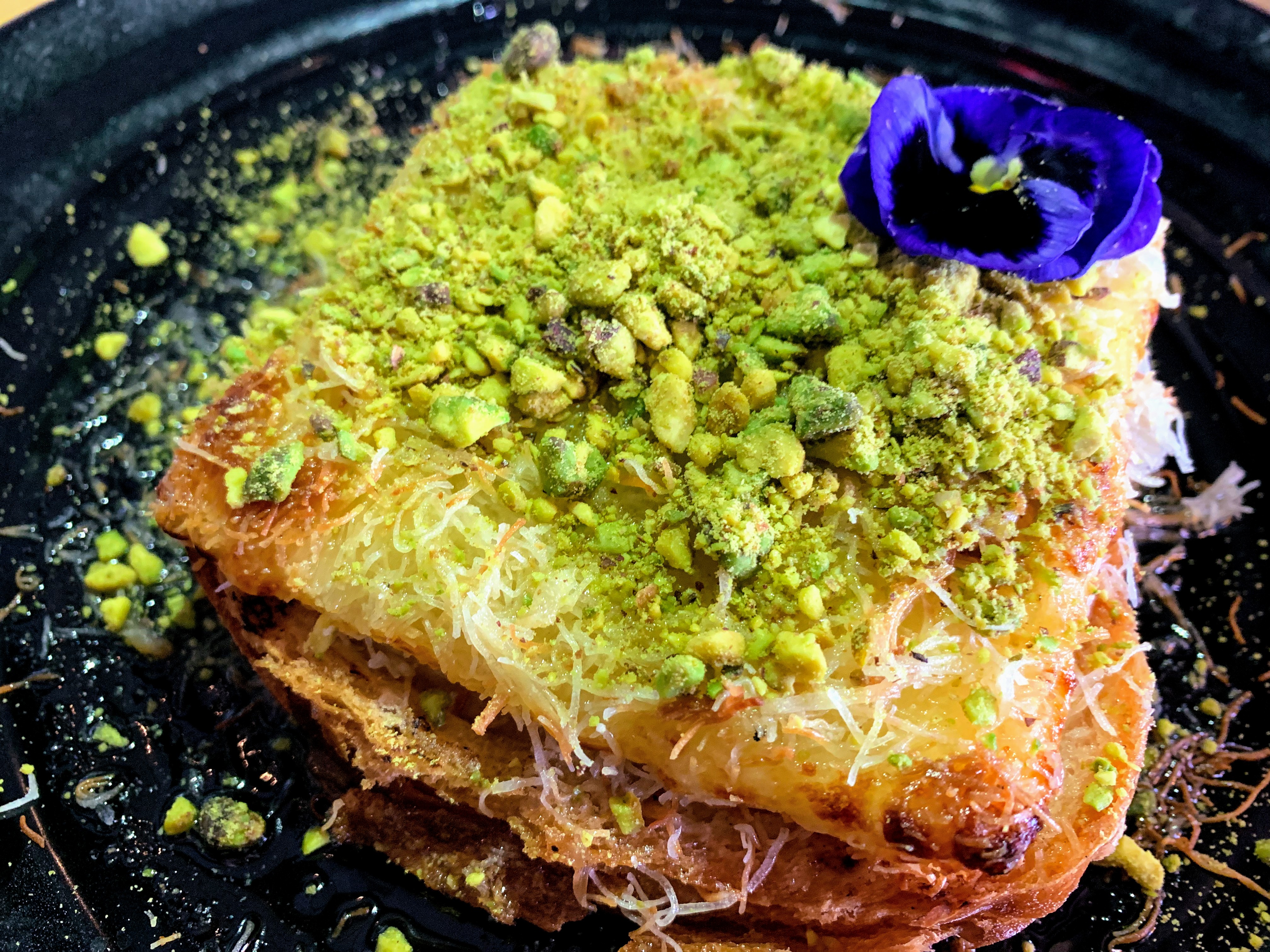 The next course was over the top and pretty much filled us to the brim. The hubs naturally chose the Prime Steak and Eggs and being a New England girl, I just had to try the Lobster sandwich. Both recommended by our waiter, we were confident that we were in for a treat. The NY Prime Steak was a generous portion of NY prime. It was accompanied by fried mashed potato which in my opinion was decadent. They were just the right crispy on the outside and with a heavenly fluff of the mash potato in the inside.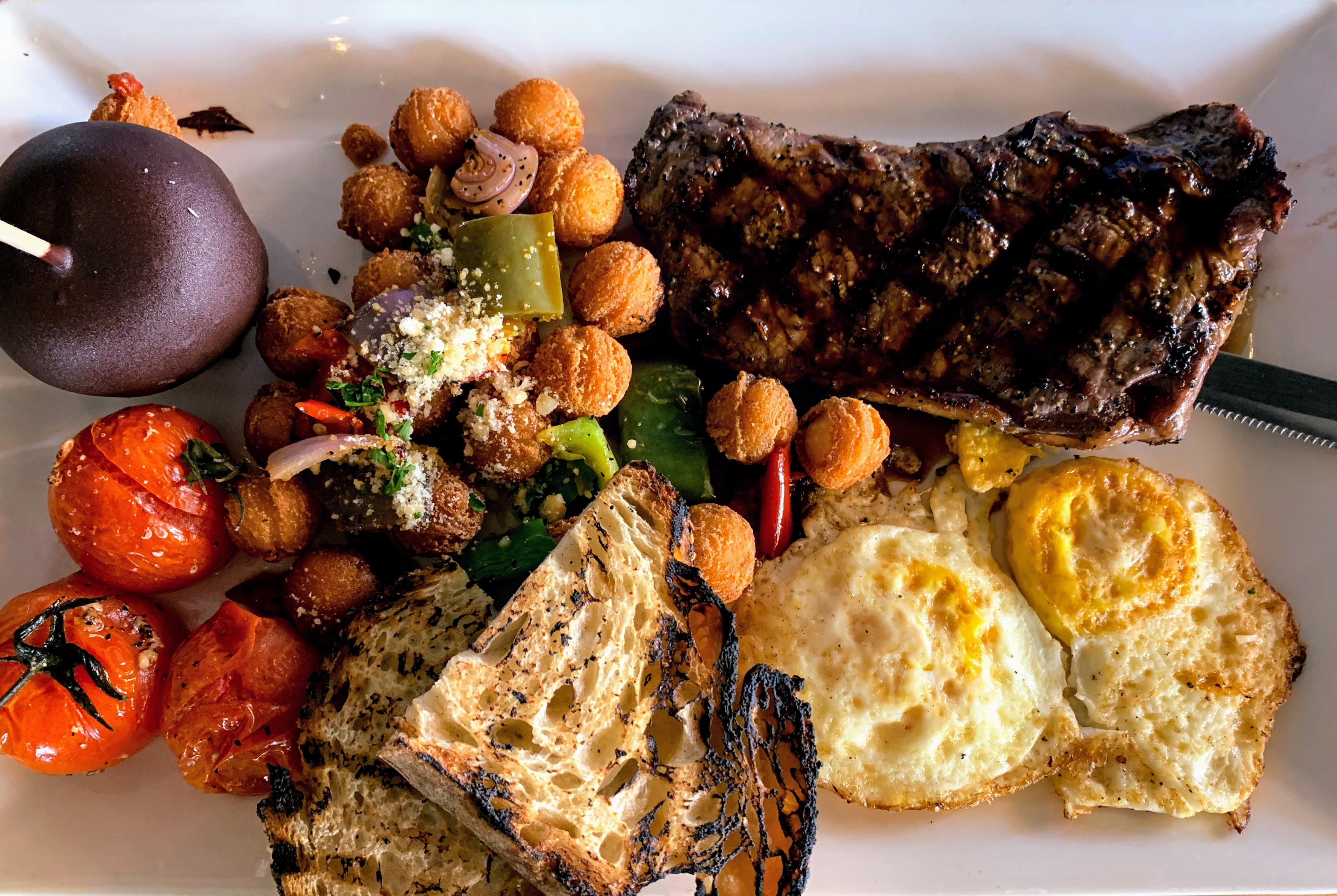 Looking for quiet and authentic? I recommend going when the kids are at school, during the week to beat the crowd. No doubt this venue will be hopping sooner than later.
Toast Gastrobrunch is open daily from 7am-3pm and located at 5970 Avenida Encinas Carlsbad, CA 92008
Erika Veduccio and her hubs were hosted by Toast Gastrobrunch. Meals were complimentary. No other compensation was received and all opinions expressed are the writer's own.